Ceramic paint protection Mindarie
Is your car in need of Ceramic paint protection, we are mobile and come to you in Mindarie
The Western Australian UV rays are particularly damaging to cars. We are seeing more and more Western Australian car owners looking for a way to protect their car paint from peeling and fading. Our experts will ensure that cars paint is repaired if already damaged and then protected from further damage.
Our paint protection services Mindarie:
BOOK NOW
EXCLUSIVE CAR DETAILING PERTH
Paint Protection/Ceramic Paint Protection Mindarie
Paint protection can be viewed as an unnecessary addition that cars salesmen try to upsell you on, but did you know that the correct type of paint protection apple by professionals can really make a difference to your paint's life. Have you experienced the peeling, faded and unsightly damage that UV rays combined with salty wind can do to a car? We have and it is very common in cars left uncovered in Western Australian weather.
Our paint protection is applied by professionals, this avoids streaks, stains and damage that can occur if the paint protection is applied incorrectly. Please note that it is NOT recommended to try applying for your own paint protection unless you know what you are doing as in some cases incorrectly applied paint protection can do more harm to your car's paint.
Paint Correction Mindarie
Your paint can get scratched or damaged from general driving and time or an accident, no matter the cause we can colour match and repair paint damage to make your car shine like new.
Types of paint defects and damage:
Swirl Mark Marring – often from washing a car with incorrect sponges and clothes
Random Deep Marring – small scratches and cuts from automatic car washes or grit stuck in cleaning cloth. These are minor but can build-up
Scratching – this happens when the paint is completely removed and not just the top layer. These are the scratches that you can feel when you run your hand over them
Etching – is caused by a chemical reaction on that paint's surface that eats or dissolves the surface at a fairly consistent rate of a relatively large area, creating depressions on the surface that appear like empty swimming pools.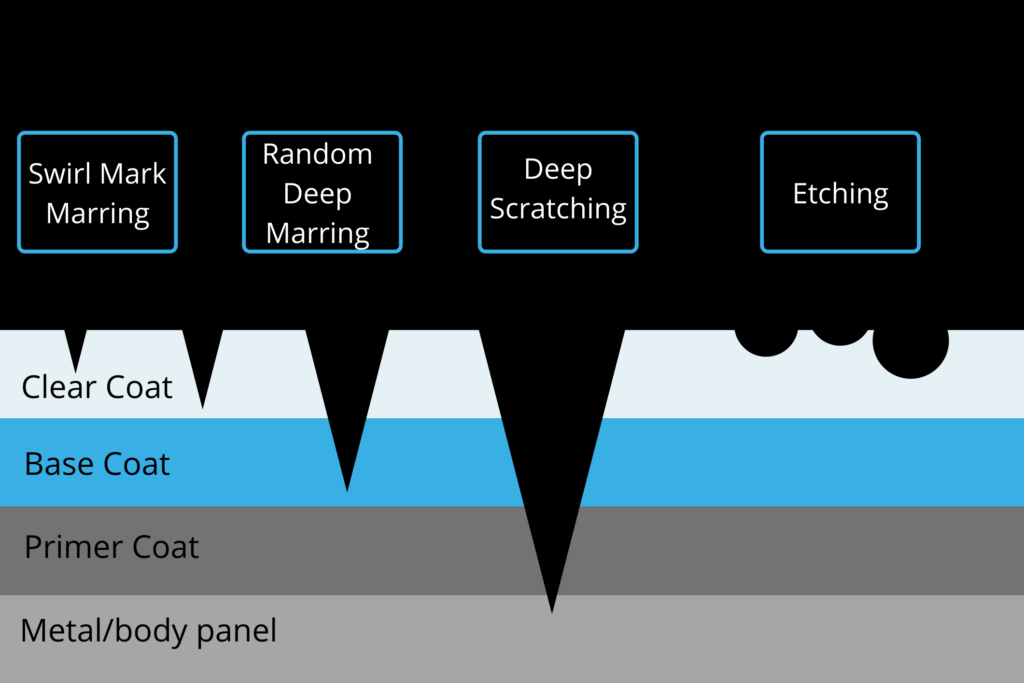 Samuel Mondellano
2022-02-16
Thanks guys for the amazing job! I will pass your details onto my friends surely
I highly recommend Buffman to anyone who wants a real eye for attention to detail, great service!
What an absolute transformation on my corolla, i am amazed particularly with the paint after the machine paint correcting work
Juliet Sarmanter
2021-12-25
We bought an ex miner Prado from the Pilbara in quite a red dust bad state, Andy spent a the whole day on it bringing it back to its former glory, now it looks as good as showroom gold, invested a bit of coin but it was worth every cent! Thanks mate!
Look no further for a top detailing service, these guys come to you and do a stunning job.
Thanks Andy fantastic job yesterday and have a merry Christmas 🙂
I highly recommend Buffman after working on my car today and for fitting me in last minute before Christmas in this heat! Amazing job!
Thanks mate for taking the time today to bring out the best in the paintwork on my Hyundai, honestly having second thoughts on selling now.
Excellent workmanship! Easy and breezy communication and highly attentive in the fine details 🙂
Thanks Buffman on the supreme job on the RAV4, my wife is over the moon! Please send me through an invoice at your earliest convenience.
Contact us today for a quote or you can text an image to us of the damage on 0406 862 833
We also recommend Paint Protection Mindarie if you need ceramic paint protection and we are unable to travel to you.
Need a classy ride to an event or airport? Mindarie private VIP chauffeur driven taxi transport